Monthly Member Education Sessions
Member Education Sessions take place on the third Tuesday of the month at either 5pm or 6pm PST / 8pm or 9pm EST. All meetings are conducted on Zoom. If you are unable to make it to the meetings, they are recorded and shared on our members and supporters resource pages so that you can view them at your leisure.
Peer Mentoring
We offer a bi-monthly peer mentoring session, where we get together to chat about our work, share our knowledge with our peers, and gather in community. This is helpful for both working Doulas to get support with their work, as well as for prospective Doulas who are getting started.
Novice Doula Orientation
Are you looking to become an End of Life Doula and need some support to get started? We offer semi-annual sessions where we explore what training to take, how to set up your practice and more. If you are a supporting member and would like to join the EOLDAC as a registered member, we will take you through how to apply and ways to build your experience hours requirement.
Please view our upcoming events below, as well as previous events that are available for download in our members-only recording library.
Upcoming Member Education Sessions - Save the Date!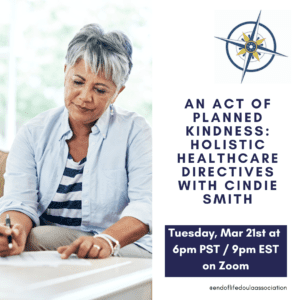 A well-constructed holistic healthcare directive, or advance care plan, can contribute significantly to creating a more peaceful, calm and supportive dying space. It can greatly reduce your risk of unwanted interventions. It can also spare your family the stress and future self-doubt of making difficult decisions at a highly emotional time - everyone can feel a bit more secure because they know what you want and who is in charge.
But the task of creating a holistic healthcare directive is more than simply committing to paper your wishes and preferences for serious illness or end of life care if you can no longer speak for yourself. It holds the potential to establish normalized conversations about death, dying and grief within a family that may have avoided the topic in the past.
In this session, Cindie Smith, owner and operator of Tidal End of Life Doula (www.tidaldoula.ca), will give a brief overview of the practicalities of creating holistic healthcare directives. Using the process she has developed over the past 10 years, we will discuss how to begin the conversation by looking back before we can move forward, the essential components of a holistic directive, tools that can help identify medical and environmental priorities, and what to do with the document when it is finished. Cindie will also cover some options on how the client might share their decisions with their family.
Who: EOLDAC Members
When: Tuesday, March 21st at 6pm PST / 9pm EST
Where: Virtual Gathering on Zoom. Registration info will be sent by email to members.
Cost: Free
Interested in attending our events but are not a member yet? You can attend our monthly events for as little as $60 per year. Check out more info on membership here.
Previous Events (last 12 months) - Recordings Available
Not a member/supporter yet?
Join the EOLDAC as a member or supporter and have access to our monthly events for as little as $60 per year.