Monthly Members Sessions
Members Sessions take place on the third Tuesday of the month at 6pm PST / 9pm EST. All meetings are conducted on Zoom. If you are unable to make it to the meetings, they are recorded and shared on our members and supporters resource pages so that you can view them at your leisure.
Peer Mentoring
We offer a bi-monthly peer mentoring session, where we get together to chat about our work, share our knowledge with our peers, and gather in community. This is helpful for both working Doulas to get support with their work, as well as for prospective Doulas who are getting started.
Book Club
Alternating with the Peer Mentoring sessions is our bi-monthly book club. It's an on-going club so there is no requirement to commit for every session; please join us when the book piques your interest! We aim to include Canadian authors as much as possible, and you may even find a few of them joining our group for a discussion of their book!
Novice Doula Orientation
Are you looking to become an End of Life Doula and need some support to get started? We offer semi-annual sessions where we explore what training to take, how to set up your practice and more. If you are a supporting member and would like to join the EOLDAC as a registered member, we will take you through how to apply and ways to build your experience hours requirement.
Please view our upcoming events below, as well as previous events that are available for download in our members-only recording library.
Upcoming Sessions - Save the Date!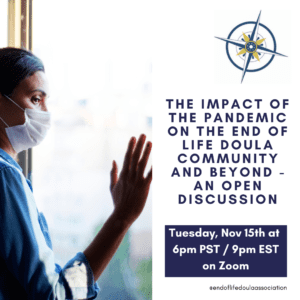 With the onset of the pandemic in 2020, we all had to make sacrifices and changes in our daily lives, whether by choice or necessity. Now 2+ years later, as Covid-19 cases stabilize and remain relatively low and we all (hopefully) move into a more regular routine, we would like to invite you to join us for a reflective conversation about the impacts of the pandemic on your doula work.
Led by our association Vice-President Sue Phillips and President Dr. Linda (Frankie) Franchi, we invite you to partake in an open dialogue about:
· Vaccination vs. Non-Vaccination
· Impacts on death care in LTC, palliative and hospice environments
· Effects on mental health supports
· Available and needed resources and supports
Through a guided discussion, we want to learn more about the effect of governmental (federal, provincial, local) mandates, workplace regulations, and personal choices (for your clients and/or yourself), and explore how these new processes may have changed the way you work.
Who: EOLDAC Members
When: Tuesday, November 15th at 6pm PST / 9pm EST
Where: Virtual Gathering on Zoom. Registration info has been sent by email to members.
Cost: Free
Interested in attending our events but are not a member yet? You can attend our monthly events for as little as $60 per year. Check out more info on membership here.
Previous Events - Recordings Available
Not a member/supporter yet?
Join the EOLDAC as a member or supporter and have access to our monthly events for as little as $60 per year.