Monthly Member Education Sessions
Member Education Sessions take place on the third Tuesday of the month at either 5pm or 6pm PST / 8pm or 9pm EST. All meetings are conducted on Zoom. If you are unable to make it to the meetings, they are recorded and shared on our members and supporters resource pages so that you can view them at your leisure.
Peer Mentoring
We offer a bi-monthly peer mentoring session, where we get together to chat about our work, share our knowledge with our peers, and gather in community. This is helpful for both working Doulas to get support with their work, as well as for prospective Doulas who are getting started.
Novice Doula Orientation
Are you looking to become an End of Life Doula and need some support to get started? We offer semi-annual sessions where we explore what training to take, how to set up your practice and more. If you are a supporting member and would like to join the EOLDAC as a registered member, we will take you through how to apply and ways to build your experience hours requirement.
Please view our upcoming events below, as well as previous events that are available for download in our members-only recording library.
Upcoming Member Education Sessions - Save the Date!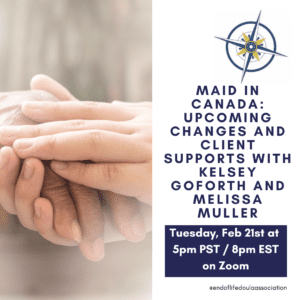 This presentation will guide you through some of the proposed upcoming changes to the MAiD legislation in Canada, as well as clarify elements of the existing eligibility criteria. We will also discuss resources and organizations that are available for both patients and families.
Kelsey Goforth is the Director of Programs at Dying With Dignity Canada and has been a staff member with the organization since 2015. She is a graduate of Douglas College's end-of-life doula program and Centennial College's Thanatology Certificate program. She has completed a Patient Navigation Certificate from the Health Leadership and Learning Network at York University as well as training in grief literacy. She has also completed Pallium Canada's Learning Essential Approaches to Palliative Care (LEAP) course.
Melissa Muller is a Program Specialist at Dying With Dignity Canada and has worked in the non-profit sector for over seven years providing compassionate support to Canadian amputees like herself. Following a personal experience with medical assistance in dying (MAiD), Melissa brings her passion and empathy into her role. She holds a bachelor's degree in Criminology from Toronto Metropolitan University (formerly Ryerson University), and a Leadership Skills Certificate from George Brown College.
Who: EOLDAC Members
When: Tuesday, February 21st at 5pm PST / 8pm EST
Where: Virtual Gathering on Zoom. Registration info will be sent by email to members.
Cost: Free
Interested in attending our events but are not a member yet? You can attend our monthly events for as little as $60 per year. Check out more info on membership here.
Previous Events (last 12 months) - Recordings Available
Not a member/supporter yet?
Join the EOLDAC as a member or supporter and have access to our monthly events for as little as $60 per year.